Meet Our Donors
UT and Football Played Major Roles in Hatfields' Lives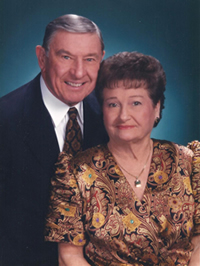 Aside from his officiating games and donating to UT, Keno and Peg Hatfield were - above all - UT Rocket Fans.
The late B.R. "Keno" Hatfield credited much in his life to football: increased confidence, great friendships and a strong physical condition. Even his nickname was a result of the game, after someone observing him play, back in the 1930s, yelled, "Look at that Beau go; isn't he a keen-o!"
Football also played a major role in his receiving a college education at The University of Toledo, from which he graduated in 1937 with a bachelor's degree in business administration.
In between playing football and attending classes at UT, Keno worked various jobs on campus. At the cafeteria, where he worked 30 minutes each day in return for a 35-cent meal, he met his future wife, Peg Deeds. They married in 1941, said the Hatfields' son, Dr. Denny Hatfield.
Throughout their life together, Keno and Peg continued a long relationship with the University. "My dad called UT home most of his life," Denny said.
Keno officiated high school and college football and basketball for over 40 years, including the Mid-American Conference, Atlantic Coast Conference and Big Ten. He also officiated at countless UT scrimmages over the years. "He officiated up until the time they made him retire," his son joked.
For his years of service, Keno received the Citizens Award from the national Hall of Fame, and was honored by The University of Toledo. "He had great relationships with many UT coaches and members of UT's athletic staff," noted Denny.
As president of Hatfield Oldsmobile, Renault and Honda, Keno also provided UT with in-kind automobile donations for many years. Besides his years of officiating and the couple's financial support of UT, Denny said his parents were—first and foremost—UT Rocket fans. "They enjoyed going to games, gathering at the gazebo, and having a hot dog at tailgates," Denny said.
Keno Hatfield died in December 2007, just before he and Peg would have celebrated their 67th wedding anniversary, and Peg died in October 2009. However, their support of The University of Toledo will continue for many years to come, thanks to their generous estate gift. The Hatfields' $100,000 bequest established the B.R. "Keno" and Peggy Hatfield Scholarship, which will benefit participants of UT's football and men's and women's basketball teams.
"My father's philosophy was that, at some point in your life, you will be helped by someone," said Denny. "You may not be able to pay them back directly, but you should pay back by helping another needy individual." He said his father could not afford to pay for his own college education, and if he hadn't received assistance through scholarships and other aid, he'd have been unable to attend. "He felt he owed both his education and the experience of playing intercollegiate football to UT, so he wanted to give back to the University," he said.
"My parents loved The University of Toledo. They were very proud every time UT had a new project going on or was recognized for an accomplishment," Denny noted. "I would hope this scholarship will enable talented and deserving individuals to come to the University, will contribute to the University's athletic success and will keep Toledo athletically competitive."
"The University of Toledo had wonderful friends in Keno and Peg Hatfield," said Dave Nottke, associate athletic director for development. "Not only were they long-time contributors to our athletic programs, but they were also the ultimate Rocket fans," he said. "We are grateful to have this scholarship serve forever as their legacy."