Meet Our Donors
Carlsons' Gifts to Boost UT Library Collections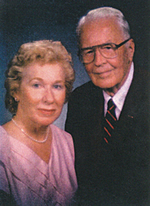 Through two trust gifts, the late Claire Carlson will benefit the collections at the library which bears the name of her husband, Dr. William S. Carslon, UT's tenth president.
As the tenth president of The University of Toledo, Dr. William S. Carlson is perhaps remembered best as the individual who led UT from the rank of a small municipal campus to a state university. During his 14-year tenure, the University's enrollment nearly tripled, and the physical campus experienced tremendous growth as well.
Barbara Floyd, director of UT's Ward M. Canaday Center for Special Collections, recalls meeting him at Dr. Frank Horton's inauguration. "You could sense Dr. Carlson's great pride in the University, especially in how it had grown since he had overseen its change from a small municipal institution into a large state-supported one," she said. "Despite his serving as president for 14 years, when you look through his papers you sense that he was a faculty member first, a scholar and researcher second, and a president third."
After Mr. Carlson's death in 1994, his wife, Claire, continued an interest in UT, especially in the library which bears his name. Ms. Floyd feels fortunate to have enjoyed a long-standing relationship with Mrs. Carlson. "She was a fascinating person, who was always interested in what was happening in the library named for her husband."
Mrs. Carlson called and occasionally visited, to inquire about new acquisitions and exhibits, and about her husband's papers, which are preserved in the Canaday Center.
Mrs. Carlson, a nursing professional who worked for the U.S. Public Health Service and the Needham, MA Public School Department, died in January 2010.
Through a charitable remainder trust she established in 1996, she provided a contribution to UT totaling approximately $118,000. The gift is earmarked for the Canaday Center, with 70 percent to be used for special collections purchases and the remainder for rare books purchases.
An additional gift of $100,000 from her trust will establish a fund to improve, maintain or add materials to the Carlson Library.
"The Carlsons' donation will allow the Canaday Center to continue to purchase the kind of rare and unique items that make our library different from any other academic library," said Ms. Floyd. "In times of budget constraints, when there is not much money to support special collections, this endowment will allow us to grow and develop our collections for use by our own students, as well as researchers from around the world."
"We greatly appreciate receiving this gift from the Carlson estate," noted Dr. John Gaboury, dean of UT Libraries. "Dr. and Mrs. Carlson's generous support of The University of Toledo Libraries has extended over many years. This gift will make the UT libraries stronger and will impact students, faculty, and staff for generations to come."