Meet Our Donors
Ashel Bryan: Philanthropist, Leader and Friend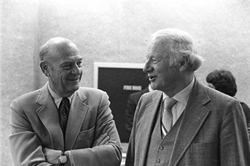 Ashel Bryan, right, and Roy Treuhaft at the Medical College of Ohio dedication.
Some individuals give back to the community by volunteering their time and skills. Others give of their financial resources.
And then there's the rare person who gives all, becoming an essential part of the very fabric of the community he serves.
For more than 33 years, Ashel Bryan served the Medical University of Ohio, now The University of Toledo, through his keen leadership and widespread generosity. He was named an MCO Distinguished Citizen and received an honorary degree from the University. When the retired president of the Mid-American National Bank and Trust Company died in September 2010, his legacy included:
serving nine years on the MUO board, with four years as chairman
serving 11 years on the MUO Foundation board, with three years at the helm
overseeing vibrant growth of the campus, including construction of the hospital, Dowling Hall, Kobacker Center and Dana Conference Center
He and his wife, Dorothy, were longtime benefactors of what is now UT's Health Science Campus. Their generosity created an outdoor commons area for patients, students, faculty, staff and the public. Their donations also supported the infusion center, renovations to the UT Medical Center Outpatient Pharmacy, and a boardroom and student lounge named in their honor. In addition, they contributed to a number of scholarship funds in their names, endowed professorships, and an emergency hardship fund for UTMC nurses.
Mr. Bryan donated his wife's artwork, "The Chemo Painting Series," to UT. Mrs. Bryan, who died in 2001, created the paintings to chronicle her battle against cancer. The series is on display on the second floor of the Health Science and Human Service Building. Her artwork also hangs in the UT Cancer Center and other locations on the Health Science Campus.
The Bryans also established a charitable remainder annuity trust, which provided them a fixed annual income while generating a future gift to benefit their named scholarship fund. The fund has assisted incoming first-year medical students since 1994, and their $45,000 trust gift ensures financial aid for the next generation of physicians.
"Hardly a week goes by that I do not encounter someone with a story of how my parents helped them," said their son, David Bryan. "This happens frequently on the Health Science Campus, where I might meet a nurse who was helped by the Nursing Emergency Fund, a patient who finds solace in one of the 'Chemo Paintings' or a faculty member who recalls something my father did to help when he was on the Board of Trustees. By showing me the benefits and rewards of living a principled, philanthropic life, I too have been enriched by their example."
"Ashel Bryan was a leader who knew how to make things happen and how to get others involved," said UT President Lloyd Jacobs. "He was idealistic and altruistic in nature, committed to upholding the vision and mission of our organization. Ashel was filled with compassion, and inspired many through his acts of generosity. He was a mentor, friend and business colleague to many here at UT. His legacy will not be forgotten."