Meet Our Donors
Late Astronomy Professor Helps UT Reach for the Stars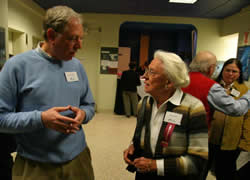 As UT's only astronomy professor for many years, the late Helen Brooks witnessed the department's major growth. She was there for the country's developments in the space program, which she once said gave astronomy its impetus. She was there when the (then) department of physics was renamed the department of physics and astronomy, in recognition of the growing stature of the program. Along with Dr. John Turin, she played a key role. She was also on staff when a gift from George Ritter helped create UT's Ritter Planetarium, Ritter Observatory, and the Ritter Astrophysical Research Center, "That allowed me, early on, to see first-hand the difference that private gifts make to a University," Mrs. Brooks said in a 2008 interview.
Consequently, she and her late husband Elgin decided to make their own major gift to establish UT's Brooks Observatory, located on the roof on McMaster Hall, in 1987. The Brooks Observatory is used by UT students taking astronomy courses and laboratories, as well as for public outreach and education in conjunction with the Ritter Planetarium.
And, before she died in 2011, Mrs. Brooks provided for the astronomy department with an additional $1.26 million trust gift.
Her planned gift establishes the Helen Luedtke Brooks Endowed Professorship of Astronomy, which will offer financial stipends and recognition to an outstanding UT astronomy professor. The trust also designated additional funding for the Ritter Planetarium and the Brooks Observatory.
Mrs. Brooks, who received bachelor's and master's degrees and an honorary doctorate from UT, said giving back to UT's astronomy program was a natural decision. "Astronomy has been my interest all my life," she said in her earlier interview, "and UT is where I've been able to take advantage of that interest."
"Helen was a great friend to UT astronomy," said Dr. Karen Bjorkman, Distinguished University Professor of Astronomy and Dean of the College of Natural Sciences and Mathematics. "She was an active supporter as well as a participant in many of our seminars and colloquia. Helen was always excited about the latest discoveries, and her enthusiasm was both infectious and inspiring."
Dr. Bjorkman said Mrs. Brooks's planned gift will sustain and support the astronomy program's continuing efforts to share the latest developments and discoveries with UT students and the entire community for years to come.
"Helen's gift is a legacy gift that keeps on giving in perpetuity. There is no better way to memorialize support for UT than a final gift like Helen's," according to Paul Hood, director for planned giving. "Helen's gift gave her peace of mind at the end of her life, and she knew that she was making a difference here at UT."