Meet Our Donors
Cathy Sheets Gives Back Through Gift Annuity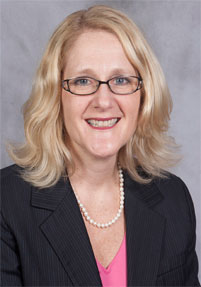 As a person of deep faith, Cathy Sheets has also been inspired by her faith to give back.
Mrs. Sheets, who received a bachelor's degree in accounting in 1986 and a master's in taxation in 1992 from UT, learned philanthropy from watching her colleagues and clients at Plante Moran, where she is a tax partner. Several of them had already created endowments at UT and other organizations, and she, too, "wanted to make a difference in a student's life."
Creating a deferred charitable gift annuity to benefit The University of Toledo was a way to give back to her alma mater for all that UT had given her.
The proud parents of two teenaged girls, she and her husband, Craig, balance work and family life, making time for local charitable commitments. Mrs. Sheets, who serves on the UT Accounting Advisory Council, is a former board member of the UT Alumni Association, and it was at that time she became exposed to the work of the UT Foundation. She created her deferred charitable gift annuity in such a way that she and her husband will enjoy an income tax deduction now and receive annuity payments later. Their gift will benefit the Accounting Excellence Fund at UT.
Mrs. Sheets said she was surprised how easy it was to work with the UT Foundation to make her planned gift a reality. "With the ease of getting income illustrations and documents, the gift sells itself when the time is right," she said. "There was no pressure to change any of my intentions." She noted that "the UT Foundation is a great steward of the funds they have. They are looking to maximize the impact of your gift."
Andrew Gaines, major gift officer for the UT College of Business and Innovation, worked with Mrs. Sheets on this gift. "Working with Cathy has been a pleasure," he said. "Her commitment and loyalty to The University of Toledo and the College of Business and Innovation are greatly appreciated."
To find out more about charitable gift annuities or how to make a gift to UT through your estate plan, please contact Paul Hood, director of planned giving, at 419-530-5303 or paul.hood@utoledo.edu.