Meet Our Donors
Edward Shapiro's Spirit Lives on in UT Students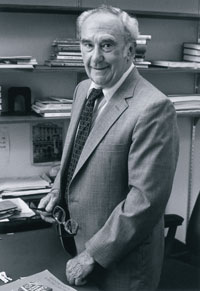 The world lost internationally acclaimed UT economics professor Edward Shapiro in 2005. However, a decade after his death, UT students still strive for the excellence in English composition and in economics that Professor Shapiro always demanded from both students and faculty.
A Toledo native, Professor Shapiro attended UT on the G.I. Bill. He deeply appreciated the undergraduate education that he received at UT, which formed the bedrock of his education. After graduating with a bachelor's in economics in 1942, he went on to obtain a Ph.D. in economics from Harvard University and to write a seminal textbook in macroeconomic analysis. The book was used by colleges across the country for many years as the intermediate macroeconomic analysis textbook, and it was translated into several languages. Professor Shapiro taught at UT from 1967-1989, where he served as head of the department of economics.
Professor Shapiro amassed a sizable estate, in part through his macroeconomics textbook royalties as well as through his financially conservative lifestyle. In a forward-thinking and thoughtful way to show his appreciation to UT, Professor Shapiro donated over $4 million dollars to UT during his lifetime and at his death for his favorite areas of focus: economics and English composition. Since inception, the Shapiro scholarship funds have awarded over $700,000 to hundreds of UT students.
Professor Shapiro also endowed the Edward Shapiro Distinguished Lecture Series that has brought in the likes of internationally renowned speakers such as Wynton Marsalis, Toni Morrison and Elie Wiesel to the UT campus.
Blair Donahue (LLSS '14), an English literature graduate student, was the winner of multiple Shapiro awards. While she said the awards had a tremendous impact on her life, she admitted she and most students who apply for scholarships and financial aid give little thought to the source of that help.
"I found out at graduate school orientation how a lot of our scholarship money had come from alumni and previous scholarship recipients," she said. Even fewer of the students know anything about the benefactors of those scholarships. But not Ms. Donahue.
"For the past two years I'd been able to go to the Shapiro award ceremony in April," she said, "so I've heard about Dr. Shapiro's work and contributions during the ceremony, and through articles." However, one thing Ms. Donahue learned about Professor Shapiro surprised her. "I was most surprised about his interests in words. He wrote a book of crossword puzzles! Dr. Shapiro is a great example of how complex all of us are, and how sometimes this line between the 'sciences' and 'arts' is more a figment of our imagination or mental hurdle than a true social division," Ms. Donahue observed.
If Professor Shapiro were alive today, Ms. Donahue said, "I'd thank him a thousand times over. I'd want to let him know how much his scholarships have allowed me to improve my writing and future—how his work has immeasurably helped mine."
"Financially, the awards allowed me more time to work on my art, which has appeared in national publications and has also been awarded honorable mentions from Glimmer Train and New Millennium Writings. More important, though," Ms. Donahue said, "is the amount of encouragement these awards have given me."
Several other Shapiro award winners agreed that winning the Shapiro composition awards helped validate their own writing skills. "Creative writing is something that is guaranteed in failure and sometimes granted success. I've been submitting my writing for about ten years, and rejection adds up quickly," Ms. Donahue said. "The Shapiro awards have definitely given me that encouragement to keep submitting."
While few people can make gifts the size of Professor Shapiro's generous legacy, anyone can become a philanthropist and impact the lives of students forever by making a bequest to UT in their will or trust.
For more information, contact L. Paul Hood, Jr., J.D., LL.M., director of planned giving at 419.530.5303 or paul.hood@utoledo.edu.