Meet Our Donors
Giving Comes Full Circle for retired UT Professor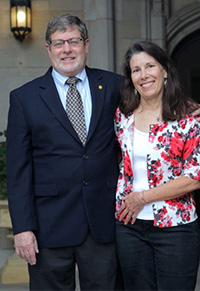 Dr. Martin Ritchie and Dr. Lynette Hale
Retired UT professor Martin Ritchie learned the meaning of philanthropy at a very young age, from his father's tireless dedication to Civil War battlefield preservation to his mother's fundraising drive to provide a piano to a retirement community. He first implemented this valuable life lesson at The University of Virginia, when he helped start a scholarship to honor a favorite professor.
Now, the giving has come full circle as former students have established a UT scholarship for school counseling named in Dr. Ritchie's honor.
A former professor and chair of UT's Department of School Psychology, Higher Education and Counselor Education, Dr. Ritchie served at UT from 1987 until retiring in 2013. He impacted thousands of students, many who have contributed to the new scholarship.
Former student Dr. Megan Mahon ('09), a professor at Capella University, said, "The main reason that I donated was to keep Dr. Ritchie's legacy alive and to honor a man who made such a tremendous difference in the lives of so many people."
Those sentiments were echoed by Dr. Jeffry Moe ('03, '07), assistant professor at Old Dominion University. "When asked to contribute to the Martin Ritchie Endowed Scholarship, and knowing the impact on students' lives that Dr. Ritchie had," he said, "I felt honored at the chance to support his legacy."
Dr. Carrie VanMeter ('11), assistant professor at Walsh University, noted that "in addition to being invaluable in my own academic development, Dr. Ritchie was a quintessential pillar of both the Department and the University. His energy and commitment to student success marked him as a uniquely encouraging and compelling figure in my education."
Dr. Ritchie and his wife, Dr. Lynette Hale ('88, '92), a project manager in the Judith Herb College of Education, were so moved by the students' responses and their experiences at UT that they have designated a portion of their estates to UT. The gifts will benefit the scholarship as well as endow professorships in counselor education and early childhood special education.
"While serving five years on the Council for Accreditation of Counseling and Related Educational Programs (CACREP) national accrediting board," said Dr. Ritchie, "I reviewed hundreds of counselor education programs from all over the country.
I realized that UT's program was among the very best in the nation. I have included this scholarship in my will to ensure that worthy candidates can benefit from UT's outstanding counselor education program."
For more information about contributing to the Martin Ritchie Endowed Scholarship or to provide for The University of Toledo in general through your estate plan, contact L. Paul Hood, Jr., director of planned giving, at 419-530-5303 or paul.hood@utoledo.edu.