Meet Our Donors
Lance and Dee Talmage Feel Fortunate to Support UT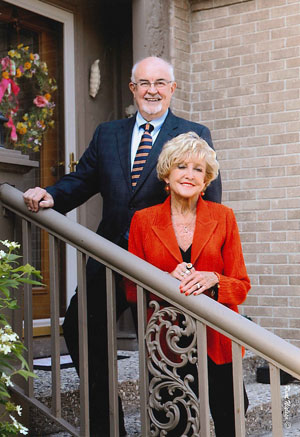 Dr. Lance and Diana (Dee) Talmage's bios read like a Who's Who at The University of Toledo.
Both hold UT degrees: Lance graduated with a bachelor's degree in chemical engineering in 1960, and Dee received a master of education in elementary guidance counseling in 1965.
A Toledo physician, Lance has been a faculty member at UT (and the former Medical College of Ohio) for more than 40 years, currently professor and interim chair of Obstetrics and Gynecology.
Among their participation on dozens of UT committees and boards, they've both served as UT Foundation trustees and as presidents of the UT Alumni Association. Lance, a retired Brigadier General with the U.S. Army, has been active with the ROTC, and Dee currently serves as vice chair of Women & Philanthropy.
Both received UT's Blue T Award for outstanding contributions to the progress of the Alumni Association and the University. Lance also received the Gold T Award for outstanding achievement in his field while providing leadership and service to the community. In addition, Dee received the Dr. Alice Skeens "Outstanding Woman Award" from the UT Women's Commission and the College of Education's Distinguished Alumnus Award.
While the Talmages' affinity for UT began with their educational experiences, it has continued due to their ongoing appreciation and respect for the University. "The University of Toledo is a source of pride and renewal for our community, as well as a cultural and entertainment center," said Dee.
In addition to their volunteerism and activities as Lifetime Members of the UT Alumni Association, they are also long-time UT donors. In 2000, they established the Dr. Lance & Diana H. (Dee) Talmage Scholarship, which aids both education and pre-med students. They have also contributed to Health Science Campus programs, the Alumni Association, and athletics.
"We value the concept of team play as a path to success in life," said Lance, who previously served on the UT athletics board. "Athletics are a form of entertainment and pride for the community. Scholarships allow athletes to gain an education."
Continuing their commitment to strengthening the UT community, the Talmages recently made a significant bequest to the UT Foundation. The first $100,000 of their planned gift will benefit the Medical Research Society, to advance medicine and medical education at UT. The balance will be given unrestricted, to be used for UT's future priority needs and opportunities.
Through their estate, they are able to make a larger gift now than they would otherwise be able to provide. "Our children are successful in their own right and deserve to be rewarded from our estate," Dee said. "However, we also want to further benefit the areas of our interest at The University of Toledo."
Lance said he and Dee believe philanthropy is an important part of their "Christian duty" to help others. "There is a quote from an unknown source, 'From those to whom much is given, much is expected,'" he said. "We have been blessed with health, opportunity, and income. It is our privilege and desire to help others."
While the Talmages support other charities and organizations, The University of Toledo has remained a focal part of their philanthropic and volunteer efforts.
"Lance and I met on a blind date when he was at UT and I was at OSU," Dee said. "Later, I earned my master's from UT, and he graduated from the University of Michigan Medical School where he also did his residency. We have a big rivalry with OSU and UM, but we agree on UT," Dee said, with a smile. "This is our school of support."
"Education is a basic requirement to make the world and quality of life better," said Lance. "Those who can are obligated to support it. We are fortunate to be able to do so."
For more information on planned giving, contact Paul Hood, director of planned giving, at 419-530-5303 or paul.hood@utoledo.edu or visit utoledo.plannedgiving.org.