Meet Our Donors
Gifts of Life Insurance Provide Benefits
and Leave Legacy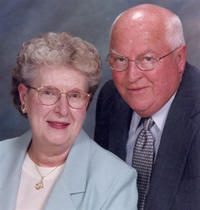 Bob and Jean Beauch
Life insurance is an effective and cost-efficient method to provide a significant gift to UT.
"Most individuals purchase and own a life insurance policy at some juncture in their lives," according to Nancy Koerner, former UT director of planned giving. "Frequently, the reasons and motivations for the original purchase are no longer applicable, and the policy is relegated to the 'forgotten' bucket. However, many people can easily turn that asset into a charitable gift that renders satisfying philanthropic, financial, and beneficial results and rewards."
Bob and Jean Beauch know first-hand how life insurance can transform into a major gift to UT. As long-time supporters of Rocket athletics, they wanted to share in the Building Champions Capital Campaign to renovate Savage Hall and construct a new athletics complex.
"When we were approached to make a contribution to the University, we definitely felt we would like to do something," said Mr. Beauch. "I have an engineering degree that probably would have been financially impossible for us to attain in the late 1940s without The University of Toledo. Also, subsequently, four of our five children have earned a total of seven degrees from UT."
The only remaining question was how the couple was going to manage the donation that they wanted to make.
"After considering the possibilities and reviewing with our tax advisor," said Mr. Beauch, "we concluded that the best solution, for us, was to donate an insurance policy that was no longer required for our future planning."
They chose to contribute a policy originally purchased in the 1950s. Now, however, because of paid-up additions and dividends, the cash surrender value of the policy has more than doubled. In addition, the couple is eligible to claim a charitable income tax deduction for the gift, and this was an influential factor.
Mr. Beauch believes life insurance might be a useful giving tool for many potential donors. "There may be many people with insurance policies put away in a drawer which they would have completely forgotten except that they get an annual letter from their insurance company with an update message," he explained.
Many advantages exist in giving and irrevocably transferring a life insurance policy to the Foundation, Ms. Koerner said. Ongoing annual premiums paid directly to the Foundation are eligible for a charitable income tax deduction, and a donor can direct a portion of an annual gift for this purpose. Because the policy is no longer an asset belonging to the donor, the death proceeds are received free of federal and state income and estate taxes, probate and administrative costs, and without delay, fees, or other transfer costs.
Ms. Koerner explained that the change of ownership and transfer is a simple process, and the donor does not incur legal or accounting fees associated with drafting of documents. In addition, this giving vehicle is a constructive way to establish or endow a fund to benefit a favorite cause or program at UT.
Jeff Traudt, a former member of the UT Foundation Board of Trustees and an insurance industry professional, said life insurance allow donors to contribute at a higher level than they may be able to at present. "When a donor passes away, many times so does their annual gift to their favorite philanthropic cause," Mr. Traudt said. "With the gift of a life insurance policy, your 'giving heart' lives on forever. It works at any level, whether you normally give $500, $5,000 or $50,000 per year, you can guarantee your gift forever."
Ms. Koerner emphasized the importance of looking for the most tax- efficient course when analyzing which assets are best to give to family and which are best to give to charity. "A policy is a viable technique for making a legacy gift, while keeping intact assets earmarked for family members."
"Planned giving is a means for individuals to recognize, link to, and support causes and ideals they value," added Ms. Koerner. "Our role is to help you design this legacy during your lifetime, so you can be assured that your intent will be understood and your wishes a reality in the future."