Meet Our Donors
Estate Gift Continues Walinski - Family Tradition at UT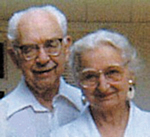 Thaddeus and Genevieve Walinski remained grateful for the opportunities The University of Toledo provided their family.
Several individuals have made their way into the history of The University of Toledo. Among them are members of the Walinski family, who have marked many "firsts" at UT.
Thaddeus Walinski, son of Toledo attorney Nicholas J. Walinski, attended what was then Toledo University at its first campus, now Scott Park. He was among the first group of students to attend classes in the newly built University Hall. He graduated with a bachelor's degree in economics and a minor in political science in 1935.
Although best known later as a Toledo attorney, city councilman and Toledo Municipal Court Judge, Judge Walinski was an active musician during his college years. "Family lore has it," notes his son, Richard Walinski, "that he composed the University's first, but quite short-lived, fight song."
Both Dick and his brother, Dr. Thomas Walinski, established their own firsts at UT. Thomas graduated in 1964 with a bachelor's degree in biology/pre-med. He played on the first UT golf team to win the Mid-American Conference Championship.
The next year, Dick graduated from UT, majoring in philosophy with a minor in classical languages. He earned a juris doctorate in 1969. Keeping with family tradition of firsts, he served as the first editor-in-chief of the the UT Law Review.
While the family left a legacy at UT, the University had a lasting impact on them, too. "My parents remained grateful for the opportunity the University offered them and their generation. For most young people in the city at the time, the University provided the only realistic chance to gain higher education," said Dick. "They were also grateful for the education that the University offered my brother and me."
After Judge Walinski died in 1991, the family established the Honorable Thaddeus N. Walinski Endowed Scholarship in UT's College of Law. The award is made annually to the editor of the UT Law Review. "My mother thought a scholarship in his name was one way to express gratitude to the University," said Dick.
When Genevieve Walinski died in 2010, her trust donated $20,000 to the UT Foundation for the scholarship fund.
Through her trust, she also provided $10,000 to benefit UT's Carlson Library, honoring her husband's lifelong love of books. "Libraries to my father were shrines," Dick explained. "He was a book-lover of the first order. Even once blind, he continued to sit in his reading chair holding a book...opened."
Through the 60 years his parents were together, said Dick, his mother admired his father's reverence for books and learning. "As my mother approached her own death, she was intent on perpetuating what he so cherished." Supporting the Carlson Library was especially appropriate since Judge Walinski was friends with Dr. William Carlson, the former UT president for whom the library is named.
"My father believed that reading the humanities is essential for developing a capacity for critical thinking," Dick said. "My mother's hope was that the gift she left to the University would be used to maintain the collection in the Carlson Library and to preserve the public's access to it."
"It is a privilege to honor the Walinski family's memories and perpetuate their values in education and books," said Nancy Koerner, former UT director of planned giving.
She notes that a bequest or distribution from your trust costs nothing during a donor's lifetime. "However, it gives you the satisfaction of knowing you will positively affect UT, as well as a program or purpose of your choice."