Meet Our Donors
Bob and Eileen O'Keefe: Loyal Rockets to the end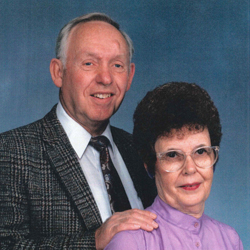 Loyal UT fans, Bob and Eileen O'Keefe designated part of their estate for UT. Mr. O'Keefe credited UT with shaping his life.
If the UT Rockets were playing at home, odds were that the late Bob O'Keefe (Bus '56) and his wife, Eileen, were cheering in the stands.
Dave Nottke, senior assistant athletic director for development and external affairs, remembered the O'Keefes fondly from athletic events.
"Bob and Eileen were very loyal fans of the Rockets for many years. They bled blue and gold, and rarely missed a home football, men's or women's basketball game," he said. "I always enjoyed seeing them."
Mr. O'Keefe passed away in 2010, and Mrs. O'Keefe in 2015. They left the remainder of their estates, which exceeded $1 million, to the UT Foundation to create the Robert and Eileen O'Keefe Scholarship Fund. The fund will support scholarships in the UT College of Business & Innovation, the UT Athletic Department, and the UT College of Nursing.
Besides their love of the University, the O'Keefes were well known for some special talents. Mr. O'Keefe had a green thumb, according to his nephew, Paul Frye.
"He lined the sidewalk of their home with tulips so eye-catching that people would occasionally stop and take photos," Mr. Frye noted.
Mrs. O'Keefe was a fine singer who was in the First Christian Church of Sylvania choir for many years.
A Korean War hero, Mr. O'Keefe was badly wounded in the war and awarded the Purple Heart. After his discharge from the Marine Corps, he attended The University of Toledo on the G.I. Bill.
He went on to enjoy a long career, working as an accountant for the Jeep Corporation, Sheller-Globe, and United Technologies.
His nephew said Mr. O'Keefe credited UT with shaping his life and with providing him with the tools to make himself successful in life. Consequently, he and his wife were inspired to give back.
"The forward-thinking philanthropy of Rocket Nation is truly inspiring," said Paul Hood, director of planned giving with the UT Foundation. "Bob and Eileen O'Keefe embodied everything that is great about The University of Toledo. Due to their generosity, their memory will now live on forever here at UT."
For information on how to provide for UT in your estate plan, contact Paul Hood, director of planned giving, at 419-530-5303 or paul.hood@utoledo.edu.